"I have been using Serenity cream for three months. I had suffered from bouts of depression since the birth of my second child fourteen years ago. As menopause approached my symptoms became worse with extra ones appearing: anxiety, nervousness, insomnia, lack of concentration, memory loss, panic attacks, loss of libido. I sometimes felt close to a nervous breakdown.
During the 12 months before using Serenity cream I tried 3 different anti-depressants and 2 types of HRT, those side effects made me feel ill and the depression was worse with HRT. I tried herbs but these were not enough. I was desperate for help which conventional medicine could not supply.
A friend recommended Leslie Kenton's book 'Passage to Power' which I read avidly and decided my last option was Natural Progesterone Cream. I saw your site on the Internet and sent for a jar as the letters convinced me as I could relate to so many of the writers' problems.
3 months later I am much improved. The depression was one of the first symptoms to improve. I am happier, more confident, and no longer feel 'I can't cope' or I am 'not in control'. I feel healthy and energetic and symptoms are less severe each month.
I am angry that my doctors (despite reading information on Natural Progesterone which I have lent to them) are so sceptical and refuse to prescribe the cream. There are women who could be saved years of suffering who are not living life to the full."
Click here to see how Wellsprings Serenity could help you...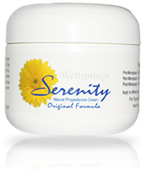 Please note that our customer reviews are individual experiences. Your results may vary.
Spotting, Hot Flushes, Mood Swings
Hot flushes and headaches