"I am now on my 2nd jar of Serenity. This cream is fantastic. It took about 8 weeks before it started being fully effective.
I was getting continual hot flushes through the day and after drinking hot coffee. I was at the stage where I would let my coffee go cold before drinking it. At night time it was awful and I could hardly sleep because of hot flushes. If the quilt touched my legs it would start a flush. My pillow felt like it was heated and if my partner came near me it was like my body melting. I just felt so awful.
I cant remember the last time I had a hot flush. It must be over 2 months now. Its like a new lease of life. I feel fantastic. I can put make-up on again without it melting!
I didn't think the cream would stop the flushes completely but it has!"
Click here to see how Wellsprings Serenity could help you...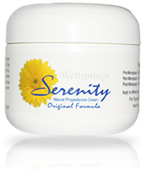 Please note that our customer reviews are individual experiences. Your results may vary.
Hot Flashes, Mood Swings, HRT
Headaches, Bad Moods, Low Energy, Ref...