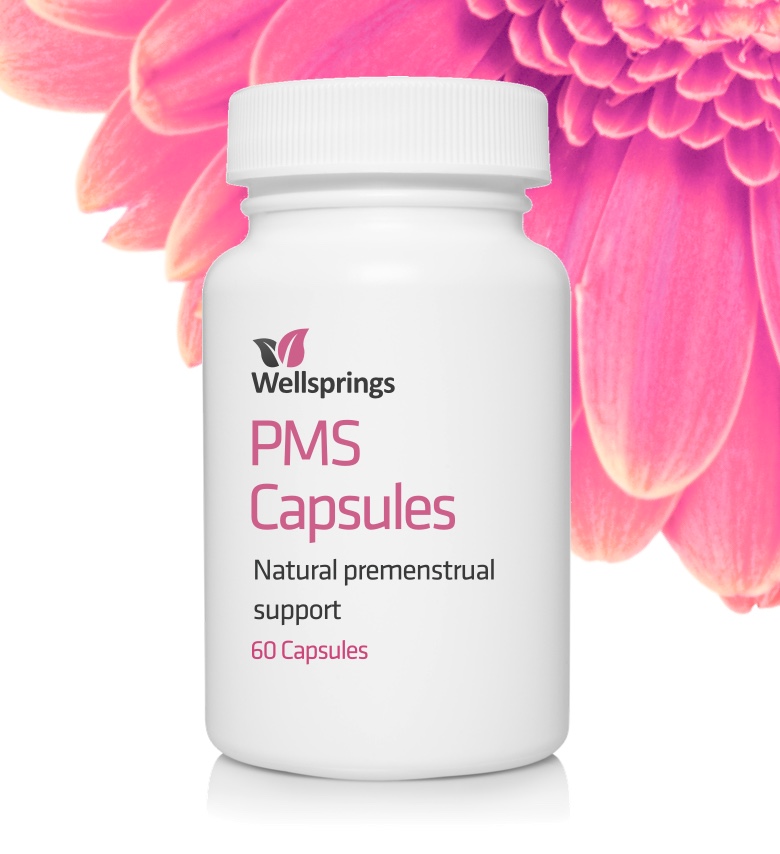 A unique blend of natural ingredients for the relief of cramping, mood swings, insomnia and other premenstrual symptoms.
Triple Action Formula
Premenstrual syndrome brings pain and misery to millions of women every month. Wellsprings has applied our 25 years of experience in natural women's healthcare to formulate a synergistic blend of natural herbs and plant extracts that helps combat the symptoms of PMS and provides long lasting relief.
Wellsprings PMS Capsules target the causes of premenstrual symptoms in three ways.
Proven Ingredients

Wellsprings PMS Capsules are formulated with premium, proven ingredients, synergistically blended for maximum effectiveness.


Soy Isoflavones contain daidzin, genistin and other isoflavones. These can bind to estrogen receptors in the body and enable both estrogenic and anti-estrogenic activity, balancing hormonal swings.
Red Clover is also a source of isoflavones, contributing to hormone balance. It has a long history of traditional use for menopausal and premenstrual symptom relief.
Dong Quai is also known as the "female ginseng". Ligustilide, a component of dong quai, is shown to promote antispasmodic activity, especially for uterine muscles.
Sage Leaf contains antispasmodic oils and tannins that can prevent sweating and provide relief from premenstrual pain and excess bleeding.
Chasteberry contains dopaminergic compounds which can help relieve mood swings and headaches, lower stress levels, reduce sleep disruptions, and lessen feelings of fatigue.
Black Cohosh includes a number of beneficial compounds including triterpene glycosides. It can help reduce anxiety and restore sleep disrupted by hormone imbalance.

These are just some of the carefully selected ingredients in Wellsprings PMS Capsules. Each ingredient has been chosen by our team of women's health experts based on the latest peer-reviewed research and years of practical treatment experience.
Full Ingredients
Amounts shown are per 2 capsule daily serving.
| | | |
| --- | --- | --- |
| | Amount Per Serving | RDA |
| Soy Isoflavones | 30mg | - |
| Black Cohosh Root Extract | 160mg | - |
| Dong Quai Root (1% extract) | 150mg | - |
| Licorice Root (1% extract) | 150mg | - |
| Red Clover Aerial Parts (1% extract) | 400mg | - |
| Sage Leaf (2.5% extract) | 200mg | - |
| Chasteberry Fruit (0.5% extract) | 50mg | - |
| Blessed Thistle (herb powder) | 50mg | - |
| Red Raspberry Fruit Powder | 50mg | - |
| Wild Yam Root (16% extract) | 15mg | - |
| trans-Resveratrol (from Polygonum cuspidatum root extract) | 1mg | - |
*
Every woman is unique. Your results may vary.
Other ingredients: Gelatin (bovine), microcrystalline cellulose, vegetable magnesium stearate and silicon dioxide. Manufactured in the USA.
Each jar contains 60 capsules.
Usage
Take 2 capsules daily, preferably with a meal.


A natural, bioidentical progesterone cream used for the relief of menopause symptoms.


Hormonal changes during menopause may encourage weight gain. Progesterone can help.

"I had hot flushes and perspiration to the point where I looked as if someone was pouring water over me"
*
*
Every woman is unique. Your results may vary.