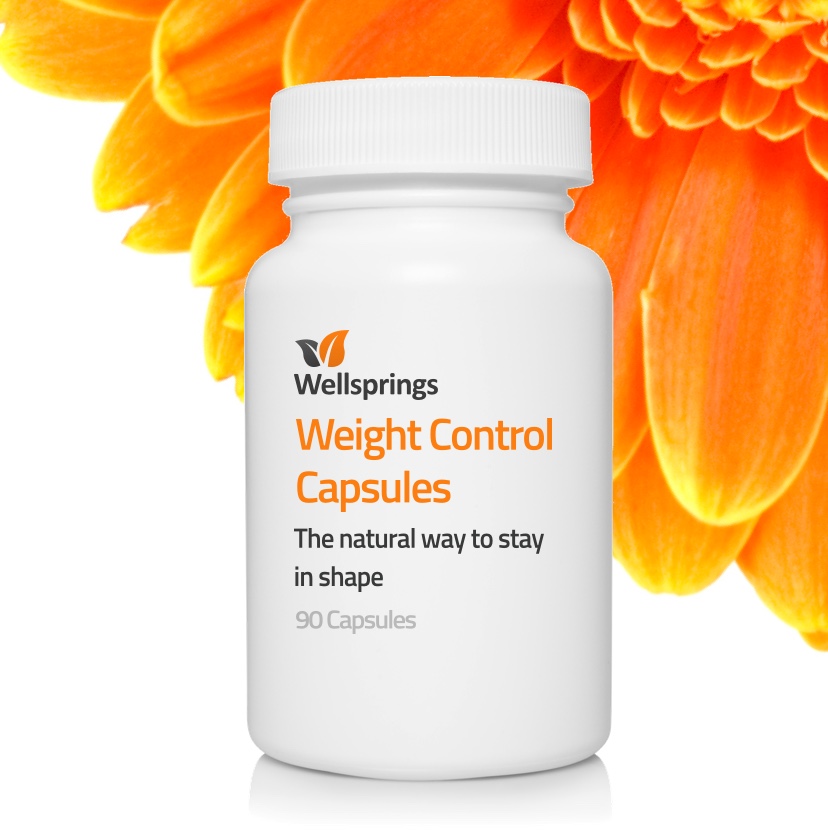 Wellsprings
Weight Control
Capsules
A unique blend of natural ingredients to help you stay in shape, through the menopause and beyond.
Triple Action Formula
Hormonal changes during menopause make it harder than ever for women to stay in shape. Wellsprings Weight Control Capsules contain a synergistic blend of natural ingredients that help combat menopausal weight gain in three different ways.
Proven Ingredients

Wellsprings Weight Control Capsules are formulated with premium, proven ingredients, synergistically blended for maximum effectiveness.



Green Tea Extract contains caffeine and EGCG — both of which can boost natural fat-burning effects in the body.

Bladderwrack is a seaweed extract continaing bioavailable iodine, which can boost the metabolism. As well as increasing fat burning, this may improve your energy levels making exercise that bit easier.

Gymnema sylvestre is a topical climbing shrub used in ancient Ayurvedic medicine for thousands of years. It's been shown to reduce the craving for sweet foods.

Chromium is an essential mineral which studies have indicated can reduce hunger, cravings and binge eating.

Inositol is a special type of carbohydrate which, unlike most other carbs, can help to balance blood sugar.

Turmeric contains curcumin, which animal studies indicate may promote weight loss, reduce fat tissue growth, curb weight regain, and enhance insulin sensitivity.

These are just some of the carefully selected ingredients in Wellsprings Weight Control Capsules, each one chosen for its natural effects in helping to maintain a healthy weight, especially given the hormonal changes during and after menopause.
For best results
these capsules should be used in conjunction with a sensible diet and exercise program.
Wellsprings Weight Control Capsules can be used alongside our
progesterone creams
and our menopause and sleep
capsules
.
Full Ingredients
Amounts shown are per 2 capsule serving. Recommended usage is 2 capsules taken twice per day.
Amount Per Serving
RDA
Vitamin C (ascorbic acid)
30mg
50%
Vitamin B-6 (pyridoxine HCI)
12.5mg
625%
Chromium (picolinate)
100mcg
83%
GLA (Gamma-Linolenic Acid)
50mg
-
CLA (Conjugated Linolenic Acid)
25mg
-
Bladderwrack (algae powder)
25mg
-
Choline Bitartrate
250mg
-
Inositol
250mg
-
Gymnema Sylvestre Leaf Powder
50mg
-
Green Tea Leaf (98% extract)
100mg
-
L-Carnitine (as tartrate)
12.5mg
-
Turmeric Root (95% extract)
12.5mg
-
Coenzyme Q10
2.5mg
-
Proprietary Blend
502mg
-
(Kelp Powder, Spirulina Algae Powder, L-Phenylalanine, L-Tyrosine, L-Methionine, Bromelain, Psyillium Husk Powder, Cloves Stem Powder, Allspice, Cinnamon Bark Powder, Cranberry Fruit Powder, Grapefruit Fruit Powder)
*
Every woman is unique. Your results may vary.
Other ingredients: Hydroxypropyl methylcellulose, silicon dioxide, vegetable magnesium stearate and titanium dioxide. Manufactured in the USA.
Each jar contains 90 vegetarian capsules.
Usage
Take 2 capsules twice a day - 2 before breakfast and 2 before dinner - with a glass of water.


A natural, bioidentical progesterone cream used for the relief of menopause symptoms.


Hormonal changes during menopause may encourage weight gain. Progesterone can help.

"I had hot flushes and perspiration to the point where I looked as if someone was pouring water over me"
*
*
Every woman is unique. Your results may vary.