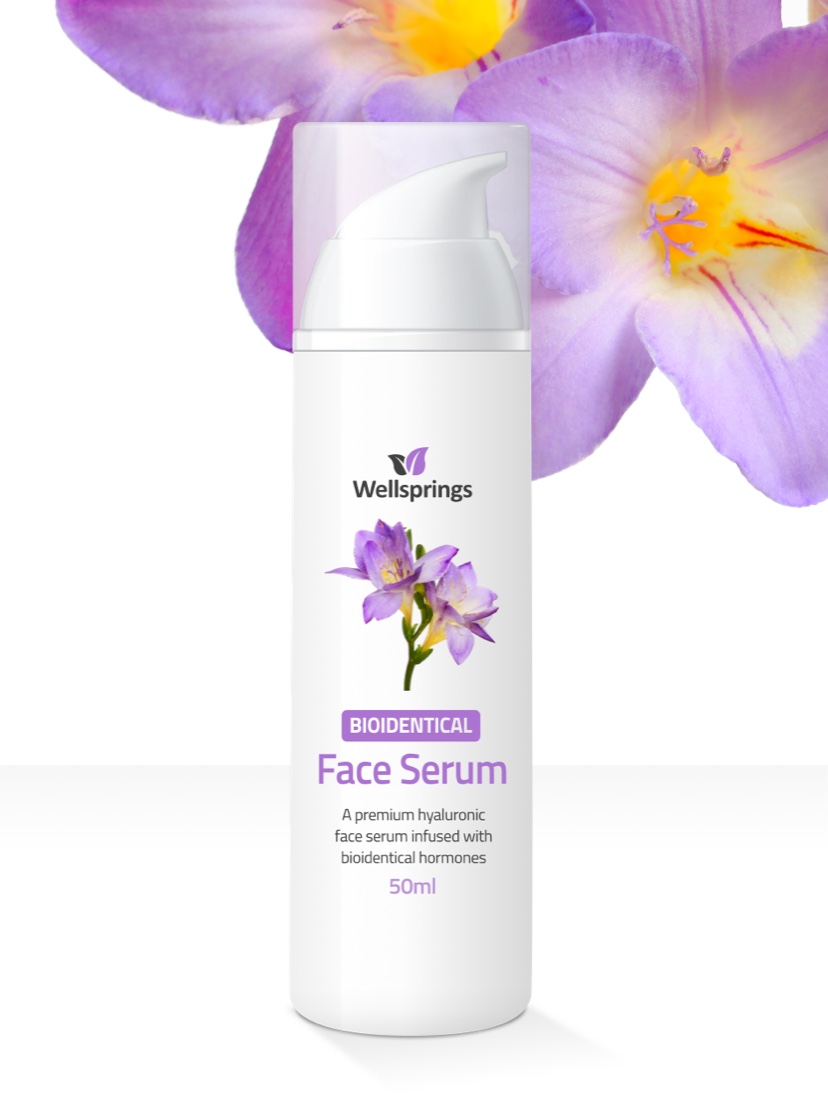 Face Serum
A premium hyaluronic face serum, infused with bioidentical progesterone and oestrogen
Wellsprings Bioidentical Face Serum is a new kind of skin care, developed specifically to fight the effects of menopause.
At menopause, skin ageing is accelerated as hormone levels drop, causing diminished blood flow and the reduction of essential elements like collagen and elastin. The result is dry skin, lines, wrinkles and less resilience against damage.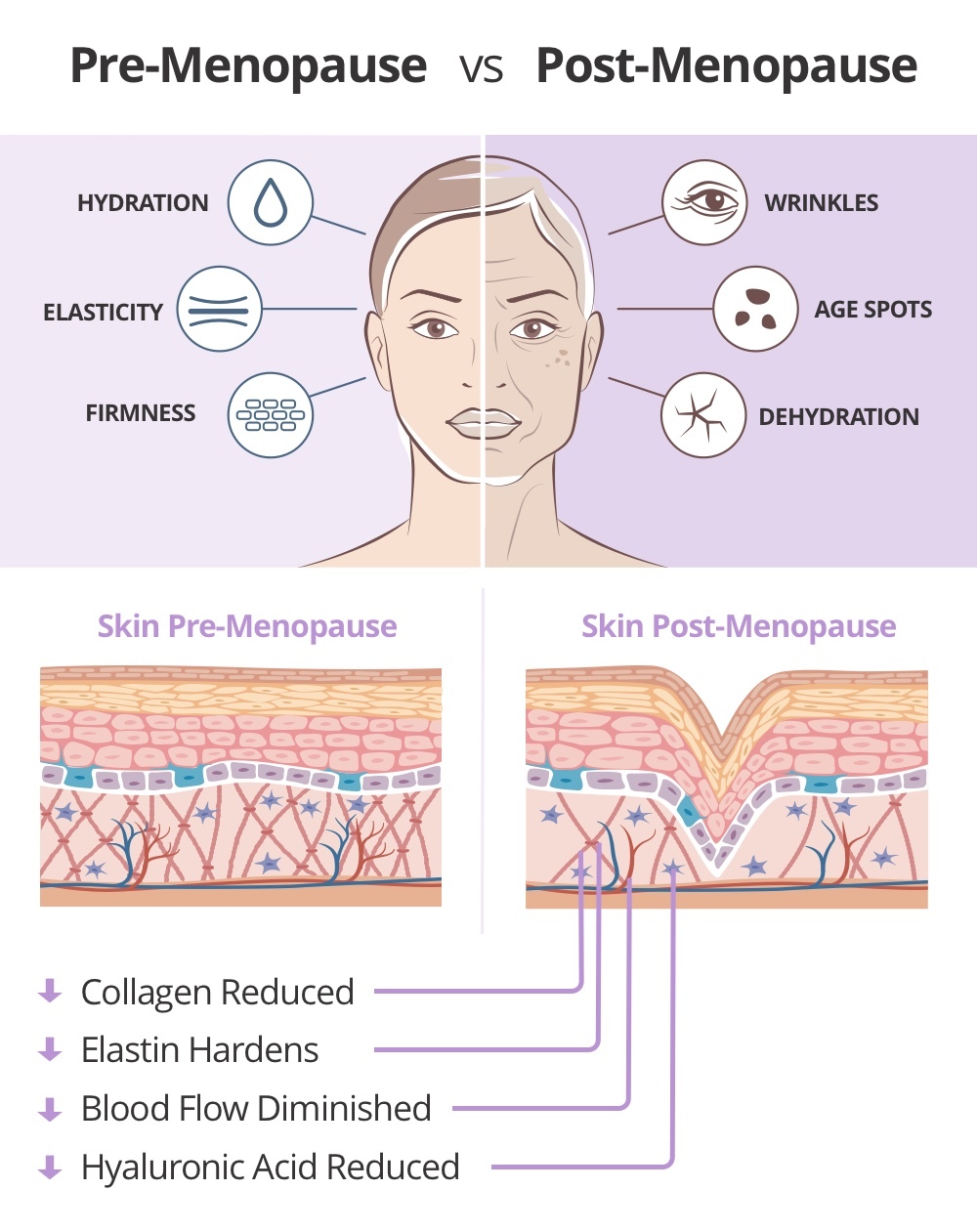 Triple Action Formula
Wellsprings Bioidentical Face Serum's triple action formula combines immediate improvements in skin tone and texture with long term protection against the structural effects of ageing.

Restores Depleted Hormones
Wellsprings' synergistic blend of bioidentical hormones and hyaluronic acid tackles the root cause of ageing skin - hormone depletion - building a daily foundation of improved skin health through the menopause and beyond.

Reduces the Signs of Ageing
Bioidentical hormones increase production of collagen, elastin and glycosaminoglycans, reducing wrinkles and fine lines, and revitalising thin, sagging skin, while hyaluronic acid boosts moisture for deep daily hydration.

Builds Skin Health and Resilience
Improves long term skin health and resilience to environmental damage, by improving blood flow, boosting nutrient delivery and the removal of toxins.
Bioidentical Oestrogen
Oestrogen is an essential element of skin function, health and wellness. Once skin becomes oestrogen deficient it undergoes histological changes responsible for decreases in collagen and IGF-1 production, among others, that are associated with the rapid proliferation of unwanted ageing skin symptoms. Supplementation with an oestrogen enriched serum can:
Stimulate the production of collagen
Stimulate the production of elastin
Stimulate the development of glycosaminoglycans, which improve hydration
Improve blood flow in the skin
Bioidentical Progesterone
A British Journal of Dermatology study showed that progesterone cream was more effective than non-progesterone anti-ageing creams in terms of improving skin elasticity and firmness in peri-menopausal, menopausal and post-menopausal women. The study, conducted over several months, showed that topical progesterone use resulted in marked improvements on four key counts when compared to an average skin cream:
Higher reduction in wrinkle and fine lines (29% v 16%)
Higher increase in skin tightening (23% v 13%)
Higher reduction in the depth of eye wrinkles (10% v 7%)
Higher reduction in the depth of "laugh lines" (10% v 7%)
Hyaluronic Acid
Hyaluronic acid is a glycosaminoglycan that occurs naturally in the skin, connective tissue, eyes, and joints. Roughly half of the hyaluronic acid in your body is present in your skin, where it binds to water to help retain moisture. However, the natural ageing process and exposure to things like ultraviolet radiation from the sun, tobacco smoke and pollution can decrease its concentration in the skin. When applied to the surface of the skin, hyaluronic acid can reduce fine lines, wrinkles and redness. Daily application of a hyaluronic acid serum can:
Deeply rehydrate the skin
Reduce the appearance of lines and wrinkles
Leave skin clearer and brighter
Suggested Use

Use Wellsprings Bioidentical Face Serum twice a day - morning and evening - as part of your daily facial skincare routine. Cleanse skin thoroughly then apply a pea-sized amount of serum using small tapping or pressing motions with your fingertips. Do not rub your skin, let the serum absorb into your skin on its own. For best results apply to slightly damp skin.
Ingredients
Deionized Water, Caprylic/Capric Triglyceride, Aloe Barbadensis Leaf Juice, Phenoxyethanol, Acrylates/ C10-30 Alkyl Acrylate Crosspolymer, Progesterone, Witch Hazel (Hamamelis Virginiana) Distillate, MSM, Potassium Sorbate, Estriol, Tocopheryl Acetate, Sodium Hydroxide, Lavandula Officinalis (Lavender) Oil, Tetrahexyldecyl Ascorbate, Sodium Hyaluronate, L- Arginine, Benzoic Acid
Contains 0.5% progesterone and 0.11% oestrogen (estriol)

Cruelty Free and Vegan


A natural, bioidentical progesterone cream used for the relief of menopause symptoms.


Hormonal changes during menopause may encourage weight gain. Progesterone can help.

"I had hot flushes and perspiration to the point where I looked as if someone was pouring water over me"
*
*
Every woman is unique. Your results may vary.